Formula 1 Russian Grand Prix
The first Formula 1 Russian Grand Prix in Sochi completed at October 12
For the first time in the history Russian stage "Formula 1" passed from 10 to 12 October 2014 as well as the international motor racing series GP2 and GP3 on "Sochi Autodrome" – the most modern track for international motorsport competitions in Russia.
The Grand Prix start was preceded by the colorful opening ceremony - with a parade of pilots, going on the open truck through the track, with choreography, dancing lezginka Cossacks and passing the Russian tricolor flag length of 450 meters.
The Sochi Autodrome rostrums, as expected, were overcrowded to the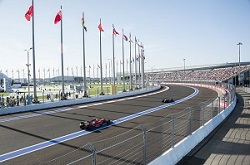 racestart. And they saw a tough fight already in the first turn.
Russia won the right to host the stage of the World Championship in October 14, 2010. Agreement with a group of companies "Formula 1" provides for stage races Grand Prix of Russia annually from 2014 to 2020.
British driver Lewis Hamilton of team "Mercedes" was the winner of the first ever "Formula 1" Grand Prix of Russia, which was held in Sochi. The second was his teammate German Nico Rosberg. The third was the Finn Valtteri Bottas from the team, "Williams".
During all the three days of racing for the guests of the event were playing Lenny Kravitz, Zveri and dj Leonid Rudenko. The Grand Prix ended with an award ceremony, which was attended by Russian President Vladimir Putin.
Company POWER TECHNOLOGIES provided equipment for the uninterruptable broadcast of the first Russian Grand Prix "Formula 1".
Varshavskoe shosse, 35, build 1
117105, Moscow, Russia
Business Centre "River Plaza"